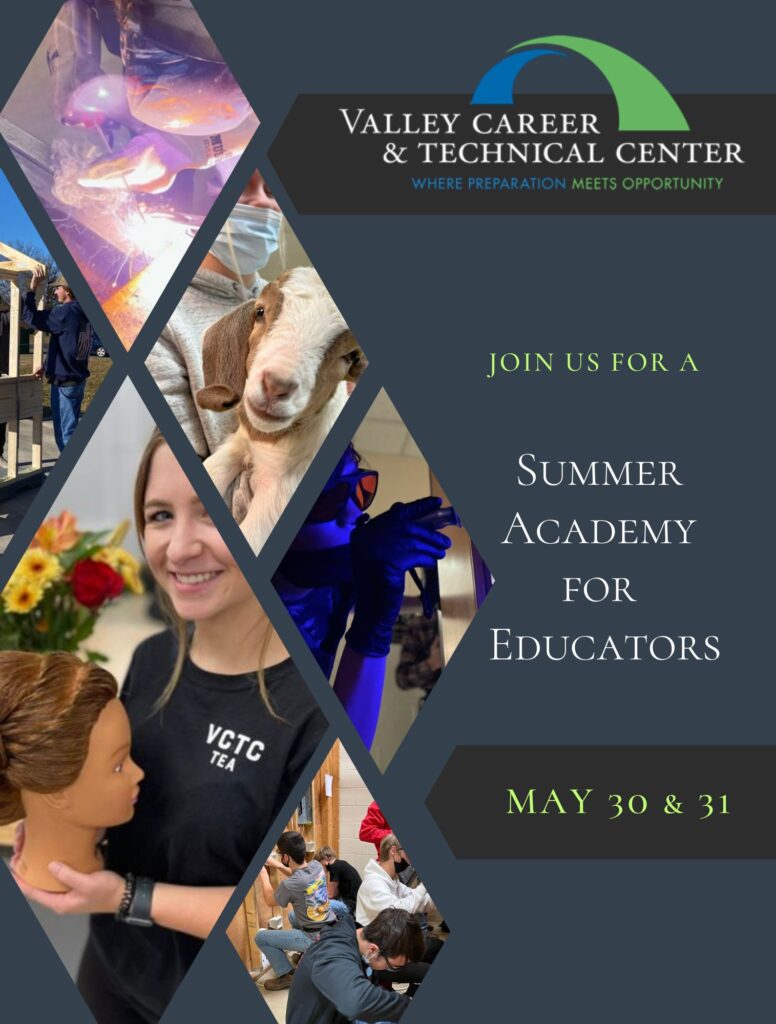 Valley Tech cordially invites all educators (teachers, administrators, counselors, career coaches, etc.) to participate in our Summer Academy Tuesday, May 30 & Wednesday, May 31 from 8:30 am – 12 pm at VCTC.
WHAT: Learn about the career skills, level of training, and options at Valley Tech with hands-on experiences! See and do what students can do!
WHO: All Educators (teachers, administrators, counselors, career coaches, etc.) at Augusta County, Staunton, or Waynesboro Public Schools
TIME: May 30 & 31, 2023
8:30 AM – 12:00 PM
Educators will choose 3 program areas to explore and will have a "wildcard" choice for a total of 4 workshops. Each choice will be a 90 minute workshop with hands-on class activities. For example, if you choose auto technology, you will be working in the shop on a vehicle, etc.
The intent is for educators to become more knowledgeable of these technical areas, local industries that support these areas, and most importantly experience things as students would.
This is a fun but informative opportunity for your staff to engage in unique professional development, collegiality, and team building.
Thank you for your consideration of these two opportunities. We hope to see you as we keep working together to help our young people transition to become productive adults and positive contributors to our community!