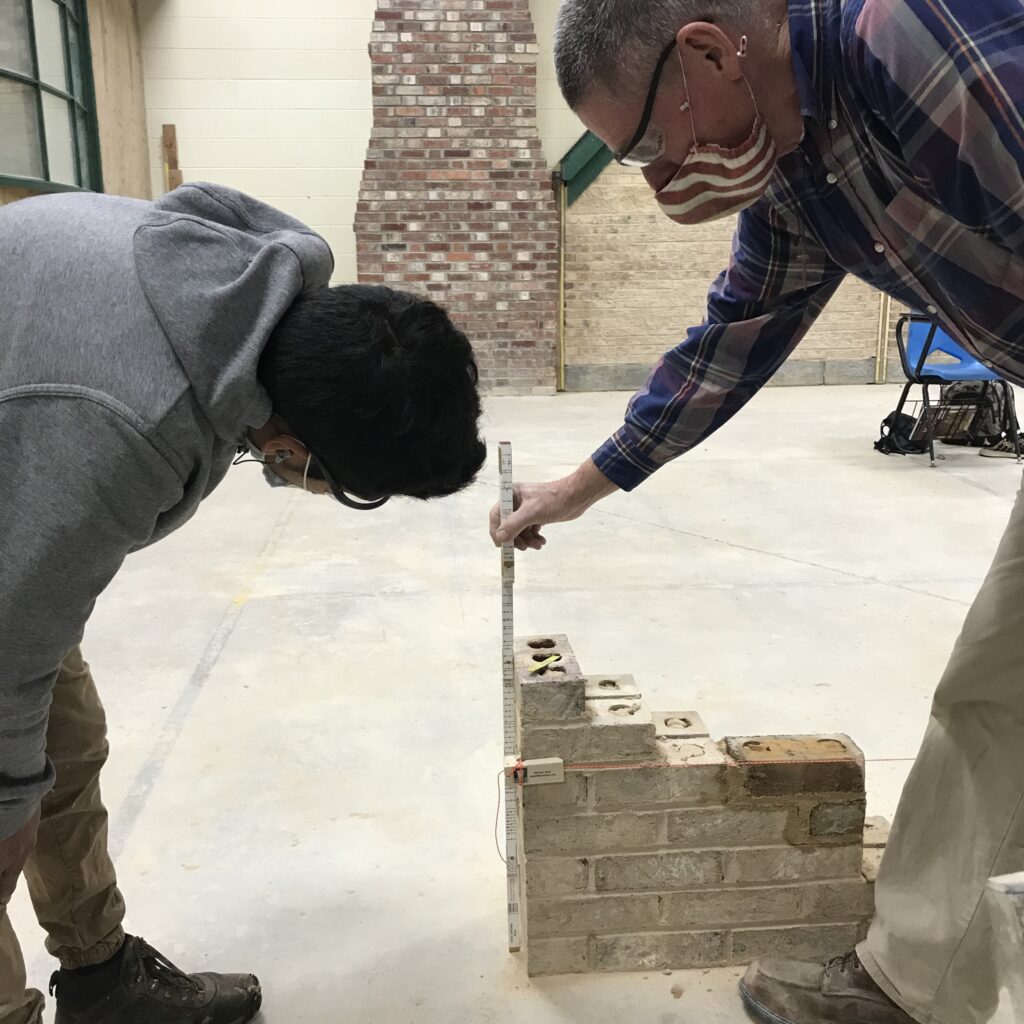 Overview
Brick masons are those entrusted with the assemblage of clay bricks and concrete blocks for both residential and commercial structures. The U.S. Bureau of Labor Statistics claims masonry to be "the fastest growing career in America", that "employment of brick masons and block masons is projected to grow 10 percent from 2018 to 2028, faster than the average for all occupations." According to the bureau, Virginia is ranked in the top 4 "states with the highest concentration of jobs". The bureau reports the 2019 annual mean wage for brick masons in Virginia as being $46,310, 30% above the average earnings. Review this data and more information online here.
The Valley Career and Technical Center Masonry Program is a one-year program preparing students with entry-level skills for becoming brick masons. Using a "hands-on" approach, students spend nearly their entire time in both Masonry I and Masonry II to develop trowel-handling skills and masonry wall construction. Masonry I is offered first semester and Masonry II is offered second semester. Click on the Masonry I Course Syllabus and Masonry II Course Syllabus for more details of each.
Valley Tech's Masonry Program is accredited by the Associated General Contractors of America, meeting or exceeding their construction industry training standards. Student certification is administered through the National Occupational Competency Testing Institute (NOCTI). NOCTI certification confirms students meet training requirements developed by the construction industry. Students complete a 10-Hour Occupational Safety and Health Training Course in Construction Safety and Health and receive an OSHA 10-Hour Construction Industry course completion card.
The area's building contractors support Valley Tech's Masonry Program and attest to the fact that Virginia, the Shenandoah Valley, and especially locally are in dire need of skilled brick masons. Valley Tech's Masonry Program instructor assists students with job placement and the area's contractors are eager to hire students successfully completing the masonry program.
Click here for recruitment power point presentation to learn more about residential and commercial masonry construction tasks and opportunities.
---
Course Content
· Basic bricklaying and block laying for line work and constructing leads
· Constructing masonry piers and columns
· Cleaning new masonry work
· Constructing anchored brick veneer walls
· Constructing masonry pilasters, masonry wall chases, brick arches and CMU walls
· Constructing masonry composite walls and cavity walls
· Constructing brick paving, stairs and stoops
· Understand building codes
· Estimating masonry material quantities/costs and labor costs
Course Details
Masonry I (Semester 1)
Masonry II (Semester 2)
GRADE 10,11, 12
Course Length: 1 year
Industry Credentials Offered
OSHA 10
· NOCTI certification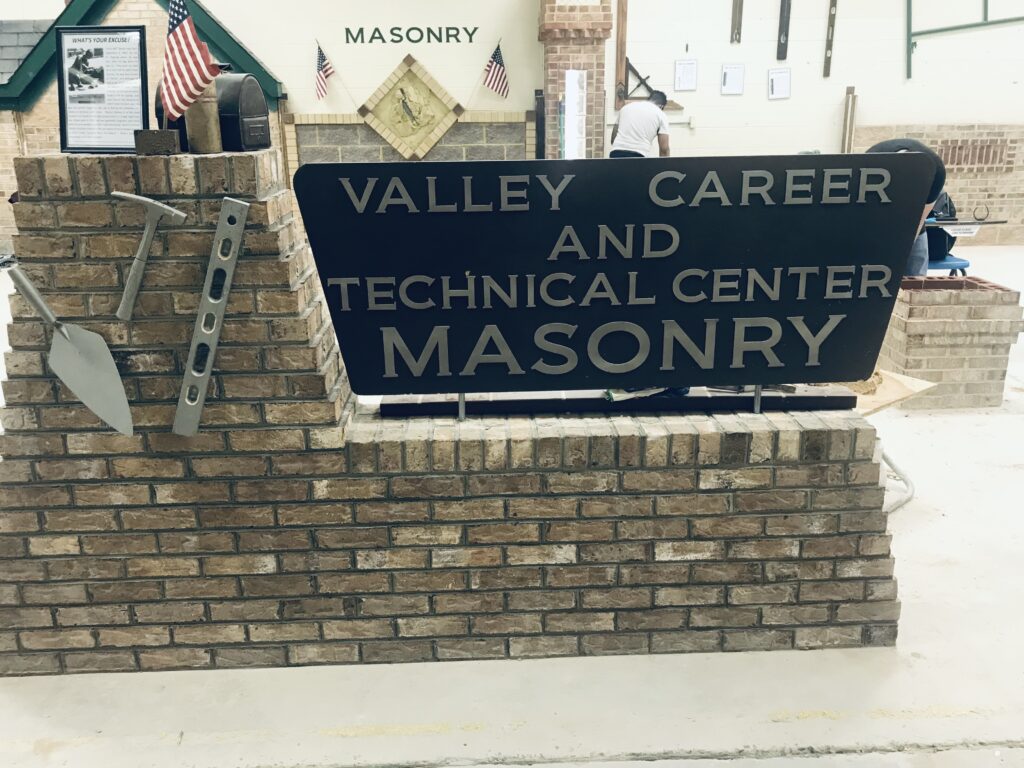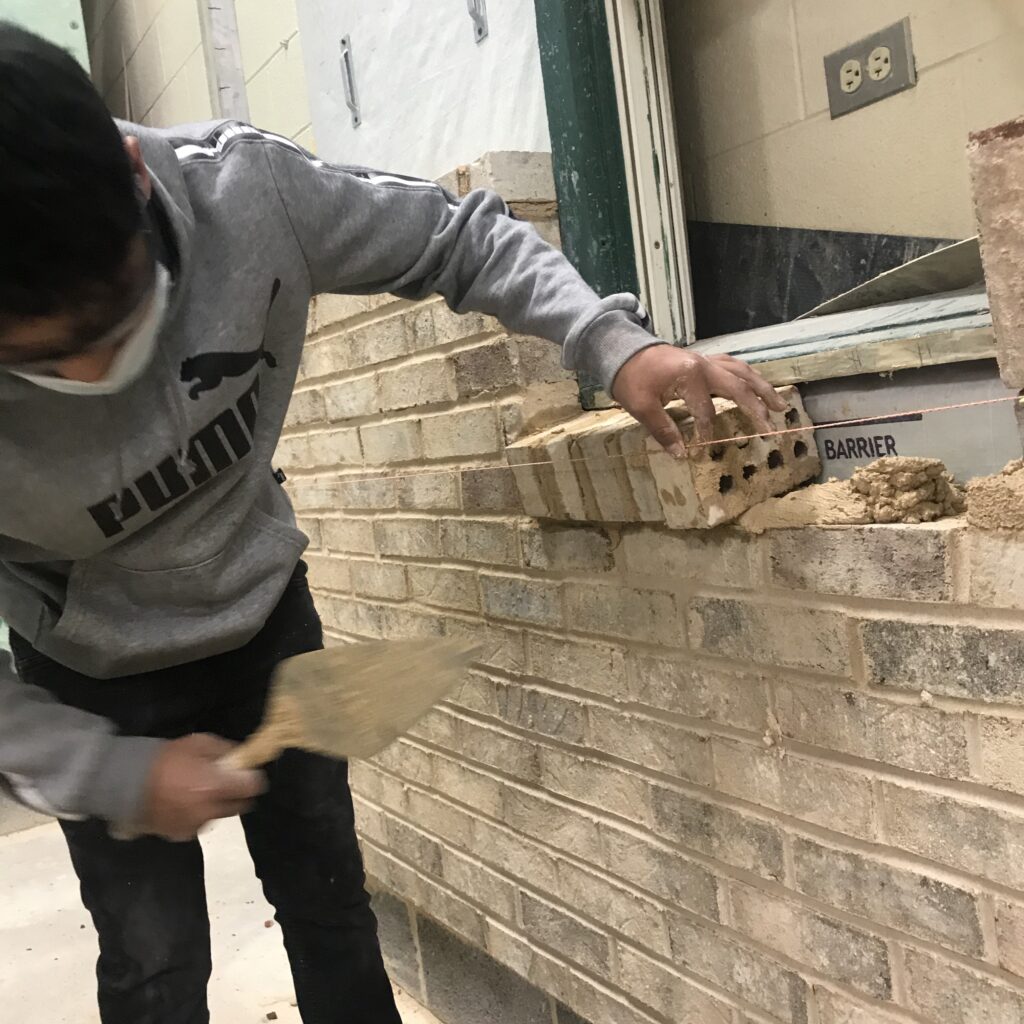 ---
Options After HS
Workforce
Masonry restoration technician, Cement mason, Tile and marble setter, Bricklayer, Stone mason, Building inspector
Local Employers: Builders First Source, Davis Construction and Masonry, M.H. Masonry & Associates, Inc., Marshall Contracting and Masonry, Inc., Mathers Construction, Nielsen Builders, Inc., R & B Construction, LLC , Shields Construction Company
Career Certificate/ Associate Degree (2 yr) program
BRCC—Computer Aided Drafting
Bachelor's /Post Baccalaureate Degree (4 yr+) majors
Architecture, Construction Engineering, Construction Management, Historical Architecture and Renovations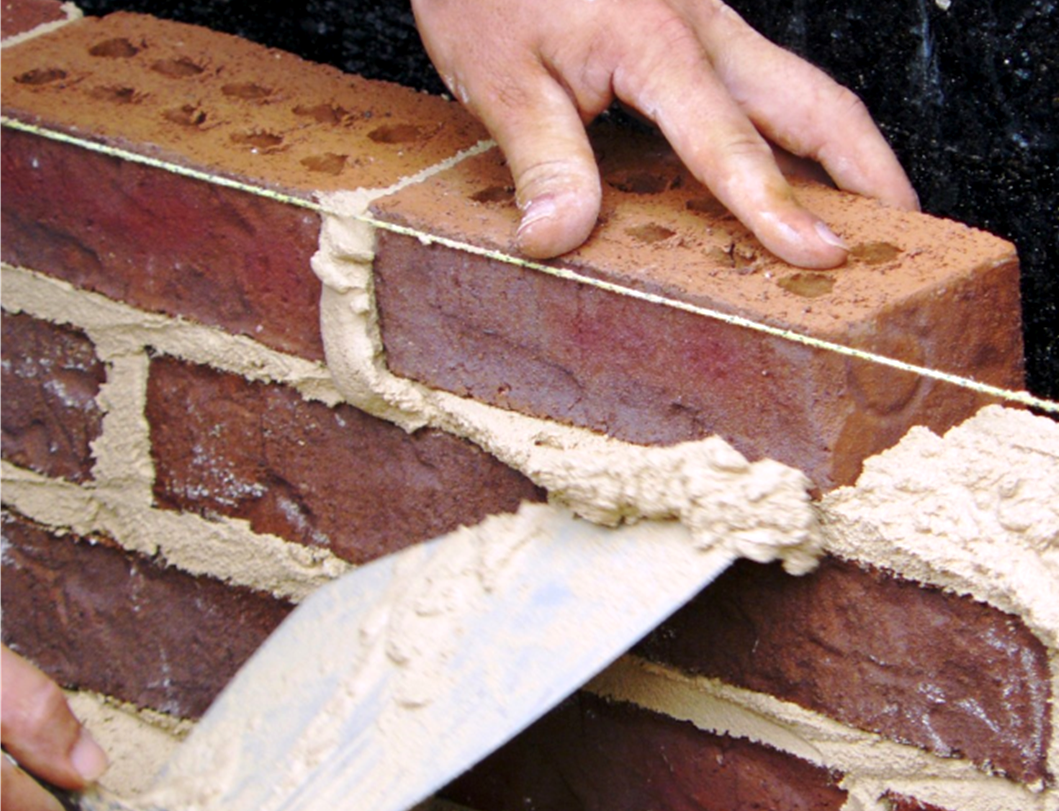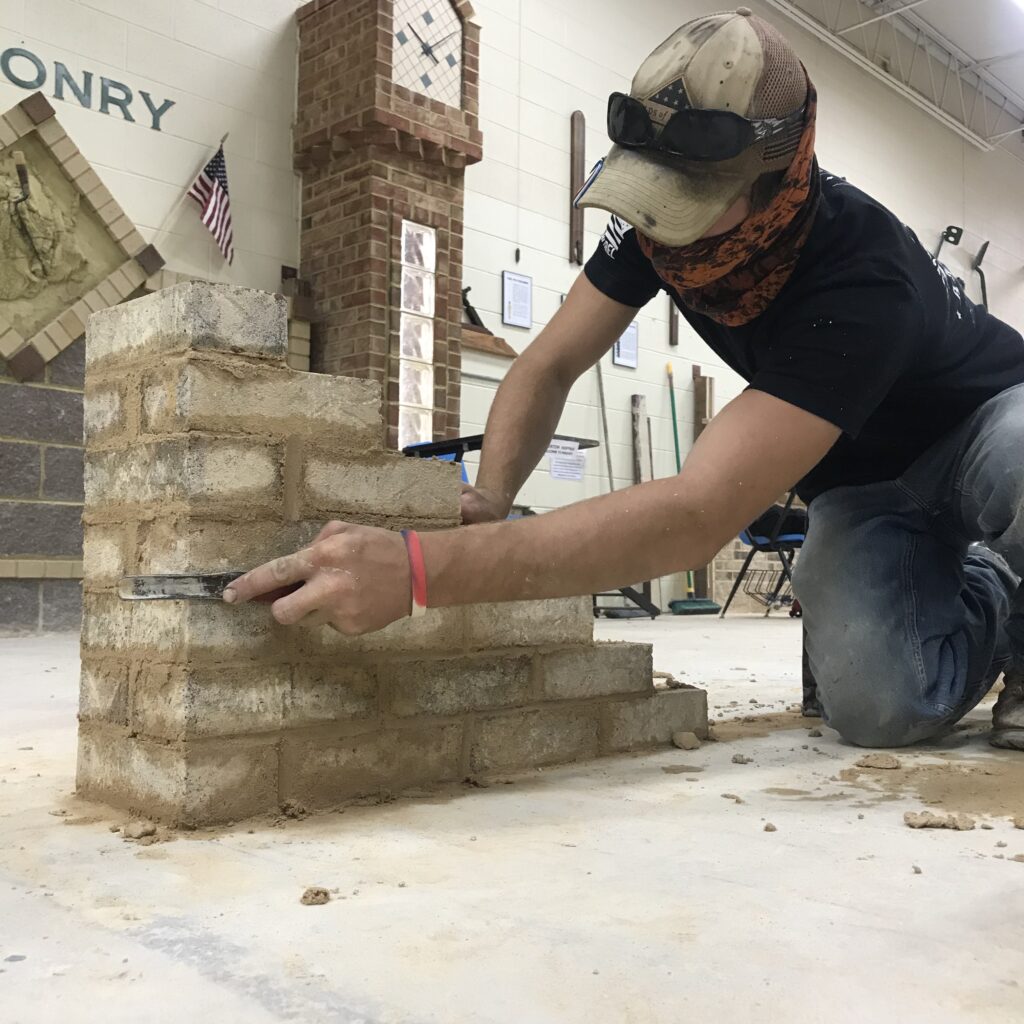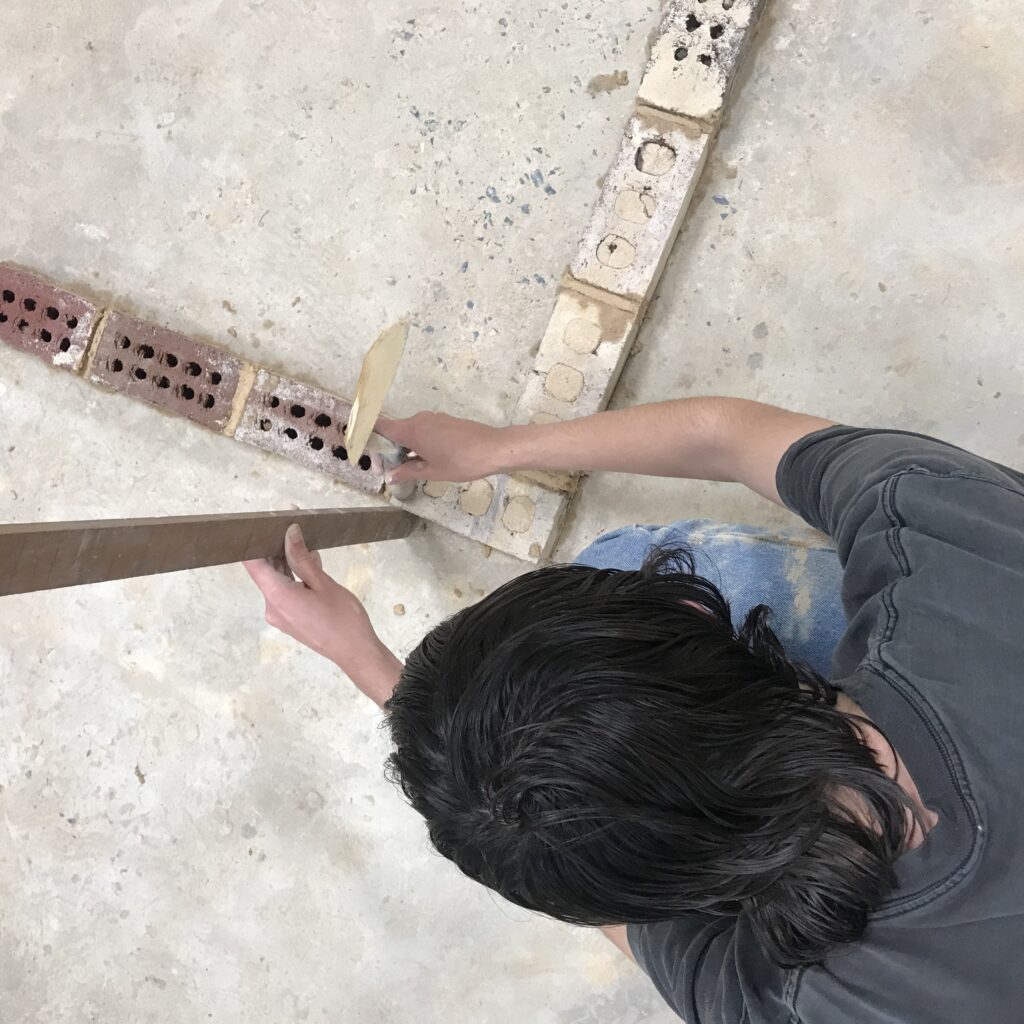 About the Instructor
Mr. Robert B. Ham teaches the Masonry Program at Valley Career and Technical Center in Fishersville, Virginia. A native of Staunton, Mr. Ham learned the masonry trade from his father and masonry contractor. He received a B.S. degree in Agriculture Education from Virginia Tech in 1974. After graduation he worked as a brick mason and completed a 3-year bricklayer apprenticeship program in accordance with standards approved by the Virginia Apprenticeship Council.
He taught Agriculture Education and Industrial Arts in Augusta County, Virginia at Fort Defiance High School from January of 1975 until July of 1979. In July of 1979, Mr. Ham accepted employment at Valley Career and Technical Center to develop and teach a masonry program that would prepare high school graduates for masonry apprenticeship opportunities.
Mr. Ham served 13 years as the lead teacher for the Virginia Masonry Instructors Association. The Virginia Association of Trade and Industrial Education recognized Mr. Ham as Virginia's Trade and Industrial Education Outstanding Teacher of the Year for 2002. Mr. Ham was recognized by the DuPont Credit Union and Clear Channel Radio as the Augusta County Teacher of the Year for 2003. In 2016, Mr. Ham was recognized by the Central Blue Ridge Community Foundation as one of 10 recipients receiving the 2016 Dawbarn Education Award, an award honoring individuals who have most successfully encouraged and inspired students to succeed.
Mr. Ham is both the author and illustrator for the masonry textbook, workbook, and instructor's resource guide for the series titled Masonry-Brick and Block Construction, a 2007 publication of Cengage Learning, Clifton Park, New York. He is also credited with revising the workbook Practical Problems in Mathematics for Masons, a 2013 publication of Cengage Learning. Mr. Ham accepted an offer to become the director of masonry apprenticeship training and the worksite safety director for Shen-Valley Masonry, Inc. of Bridgewater, Virginia in June of 2007.
In 2013 Mr. Ham accepted Valley Career and Technical Center's offer to return and again become the masonry program's instructor. Organized by Mr. Ham, his students, alumni, and advisory committee members are responsible for the construction of more than 24 house foundations for the Staunton-Augusta-Waynesboro Chapter of Habitat for Humanity. Mr. Ham and his students are recipients of the WoodmenLife 2017 Community Leadership Award for their work launching and establishing the Woodrow Wilson General Hospital Memorial Monument and Exhibit Wall. More information about this memorial is available online here.
Mr. Ham and his wife of 46 years, Donna, reside in Augusta County. Their son and daughter-in-law are both Augusta County School teachers and have one son.
Email: hamr@valleytech.us
School: 540-245-5002
Fax: 540-885-0407